Finden Sie hier die Liste mit den gefilterten Produkten auf Basis Ihrer aktuellen Auswahl.
Beratung
Lassen Sie sich beraten, nutzen Sie unser Formular, wir melden uns umgehend bei Ihnen zurück. Oder rufen Sie an:
+49 251 98729-0
Crank Softwares auf dem NXP FTF Connects in San Jose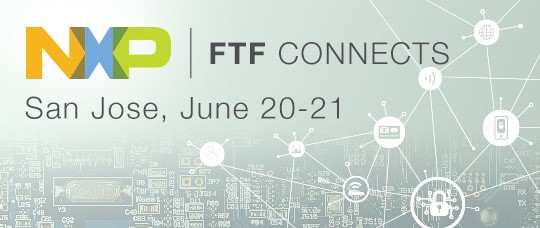 NXP FTF Connects in San Jose brings together developers, thought leaders, vendors, and OEMs for two days of education and inspiration around the Internet of Things (IoT) and autonomous vehicle revolution.
Crank Software is there to showcase the latest in automotive HMI and IoT user interface (UI) development, including the only platform that lets designers and developers work side-by-side to create amazing user experiences on a wide range of NXP products – Storyboard Suite.
HMI cluster & infotainment demos – see the future of automotive interfaces and just how much you can pack onto today's NXP platforms.
Multi-market demos – whether you're in the medical, smart home, industrial or consumer/white goods industry, we have the UI expertise and demos for you. You can download them for different NXP platforms here to get a preview of what we'll be showing.
Storyboard Suite demos – think you can build a user interface is less than 12 minutes? We'll walk you through the entire UI creation process, from Adobe Photoshop to deploying and debugging on a real target.
We're also giving a talk on the best strategies to create beautiful user experiences for the IoT.
The GUI of Things: 5 strategies to create beautiful user experiences for the IoT
When: Wednesday, June 21, 10:15 A.M.
Presenter: Thomas Fletcher, V.P. Research & Development, Crank Software, Inc.
Room: Carmel
Here in the Blog at the Crank Software website you find aditional information.
Here you find the report after the Conference with a ncie demo video
---
Crank Software ist NXP Proven Partner!