Finden Sie hier die Liste mit den gefilterten Produkten auf Basis Ihrer aktuellen Auswahl.
Beratung
Lassen Sie sich beraten, nutzen Sie unser Formular, wir melden uns umgehend bei Ihnen zurück. Oder rufen Sie an:
+49 251 98729-0
Percepio AB
Die 2009 gegründete und im schwedischen Västerås beheimatete Firma Percepio ist ein Softwarehersteller, der sich auf embedded Software und Visualisierung spezialisiert hat.
Das Kernprodukt Tracealyzer ist ein Werkzeug zur Visualisierung von Laufzeitdaten aus (RT)OS basierten embedded Systemen.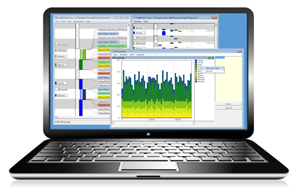 Umfassend in der Funktionalität und sehr komfortabel und intuitiv zu bedienen. Somit können Softwareentwickler leicht einen tiefen Einblick in das Echtzeitverhalten Ihres Systems bekommen und sparen erheblich Zeit gegenüber der Verwendung konventioneller Methoden. Mit dem Tool lassen sich leicht Schwachstellen aufspüren und Systeme optimieren.
Percepio arbeitet mit vielen etablierten Anbietern von Betriebssystemen für Embedded-Software zusammen. Viele RTOS Hersteller unterstützen Tracealyzer für Ihr RTOS, Percepio's Partner Verzeichniss finden Sie hier.
Im Jahr 2011 wurde Percepio von der Stadt Västerås als "Innovator des Jahres" ausgezeichnet. Der Vertrieb in Deutschland und der Schweiz erfolgt exklusiv über die Embedded Tools GmbH.
Anwender über Tracealyzer
"The many system views of the Tracealyzer from Percepio makes it easy to quickly find solutions that we have not seen using (Wind River) System Viewer. The visualization has several advantages over the system viewer and makes it easier to understand system behavior. This tool would be of great use for us."
Johan Fredriksson, Software Architect, SAAB AB
"Our goal is to integrate internet, mobile internet, digital broadcast networks and home network, in a way that creates an interesting user experience. This puts enormous quality requirements on the software we develop and Tracealyzer gives a very good support in this."
Berth Axelsson, CTO, Zenterio AB
"Tracealyzer have enabled us to better understand and further improve our embedded software. Using this tool we have been able to identify performance bottlenecks and solve problems, which otherwise would have been very hard to analyze."
Carlo Pompili, CEO, Telcred AB.
"Tracealyzer has doubled our development speed. Problems that otherwise would take days to solve are obvious with this tool and just a quick fix. We use it all the time."
Alex Pabouctisids, Lead Firmware Engineer, Flyability
"ABB Robotics is using the first generation Tracealyzer in all of the IRC5 robot controllers shipped since 2005. The tool has proven its value many times in all corners of the world."
Roger Kulläng, Global System Architect, ABB Robotics
"In today's tough competition with time-to-market pressure constantly increasing, visualization support is natural for software developers in order to produce software of higher quality, in shorter time and at a lower cost. We choose Tracealyzer from Percepio."
Jörgen Appelgren, R&D Manager, Atlas Copco Rock Drills